DRAFT TRACKER
Round 1
• Pick 27 (27)
• LB Jordyn Brooks
Round 2
• Pick 16 (48)
• DE Darrell Taylor
Round 3
• Pick 5 (69)
• G Damien Lewis
Round 4
• Pick 27 (133)
• TE Colby Parkinson
Round 4
• Pick 38 (144)
• RB DeeJay Dallas
Round 5
• Pick 2 (148)
• DE Alton Robinson
Round 6
• Pick 35 (214)
• WR Freddie Swain
Round 7
• Pick 37 (251)
• TE Stephen Sullivan
CenturyLink Lunch with the Rookies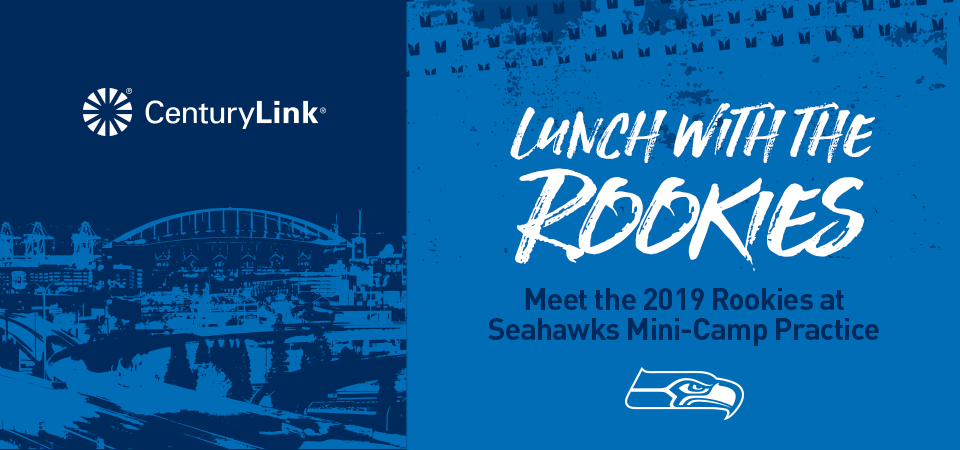 Meet the 2019 Seahawks rookies at a mini-camp practice, courtesy of CenturyLink.
Win a private lunch with the 2019 rookie class at the Virginia Mason Athletic Center (VMAC), with a tour of the facility and sideline view for a mini-camp practice. Winner will also walk away with a custom Seahawks jersey and commemorative photo opportunity.
CENTURYLINK LUNCH WITH THE 2019 SEAHAWKS ROOKIES SWEEPSTAKES
OFFICIAL RULES
NO PURCHASE NECESSARY. VOID WHERE PROHIBITED. A PURCHASE WILL NOT INCREASE YOUR CHANCES OF WINNING.
SWEEPSTAKES ENTRY PERIOD. The Sweepstakes ("Sweepstakes") begins on Thursday, April 25, 2019 at 8:00 a.m. Pacific Time ("PT") and ends on Sunday, May 5, 2019 at 11:59 p.m. PT (the "Sweepstakes Entry Period"). Sweepstakes is sponsored by Football Northwest LLC d/b/a the Seattle Seahawks ("Seahawks"), 12 Seahawks Way, Renton, WA 98056, and CenturyTel Service Group, LLC ("CenturyLink"), 100 CenturyLink Drive, Monroe, LA 71203, collectively known as the "Sponsors".
ELIGIBILITY. Sweepstakes open to all legal residents of Washington State, who are eighteen (18) years or older at time of entry ("Entrant"). Employees, officers, directors, agents and representatives of the Sponsors, their respective parent corporations, affiliates, subsidiaries, franchisees, advertising and promotion agencies, suppliers, distributors, and members of the immediate family and those living in the same household of each are not eligible to enter. Sweepstakes void where prohibited by law.
HOW TO PLAY. Enter at Seahawks.com/rookies and submit an official completed entry form during the Sweepstakes Entry Period. Limit one (1) entry per person regardless of the number of entry methods (duplicate entries will be void) OR hand print your name, address (including zip code), age, email address and day and evening phone numbers (with area codes) on a 3x5 postcard and send to CenturyLink Lunch with the 2019 Seahawks Rookies Sweepstakes, 12 Seahawks Way, Renton, WA 98056. All mail-in entries must be postmarked on or after April 25, 2019 and received no later than May 6, 2019 at 4:00 p.m. PT. Mechanically reproduced or photocopied entries are void. Online entries will be declared made by the Authorized Account Holder of the e-mail address submitted at time of entry. "Authorized Account Holder" is defined as the natural person who is assigned to an e-mail address by an Internet access provider, online service provider, or other organization (e.g., business, educational, institution, etc.) responsible for assigning e-mail addresses for the domain associated with the submitted e-mail address. Sponsors are not responsible for late, lost, misdirected, mis-delivered, incomplete, incorrect, inaccurate or unintelligible entries, messages, typographical errors, unavailable network connections, failed, incomplete, garbled, or delayed computer transmissions, online failures, hardware, software, servers, providers, equipment, human error or other technical malfunctions or disturbances or any other communications failures or circumstances affecting, disrupting or corrupting the Sweepstakes in any manner. Sponsors are also not responsible for any damages to entrant's computer occasioned by participation in the Sweepstakes or by downloading any information or data necessary to participate in the Sweepstakes. If for any reason the Sponsors are not capable of running the Sweepstakes as planned due to, among other factors, any technical failure or corruptions of any kind, the Sponsors reserve the right to cancel, modify or suspend the Sweepstakes and select winners from eligible entries received prior to cancellation. If the winning entry is an online entry, the Entrant may be required to provide Sponsors with confirmation that he/she is the authorized account holder of the listed e-mail address (if any).
Sponsors are not responsible for any charges from a wireless phone provider made to the Entrant in connection with the Sweepstakes.
GRAND PRIZE. There will be one (1) Grand Prize awarded. The Grand Prize Winner and one (1) guest will be invited to attend a June 2019 Mini-Camp practice, go on a tour of the Virginia Mason Athletic Center, and have lunch with a 2019 Seahawks Draft pick (specific date/time to be determined at Sponsors' sole discretion). Grand Prize winner will also win one (1) custom Seahawks jersey. The total value of the Grand Prize is approximately $160 (value of jersey only). Prize does not include any additional expenses that may be necessary for Winner to redeem the Grand Prize (including, but not limited to, travel, lodging, and/or incidentals). Taxes on prizes are the sole responsibility of winners. Sponsors will have the right to substitute another prize package of equal or greater value, at its sole discretion. Sponsor may substitute a cash prize or goods or services with a value equal to or greater than the estimated retail value of the original prize. Winner will not have the right to substitute another prize package. Any difference between the stated approximate retail value of any prize and the actual value of such prize will not be awarded. All expenses not specified, including but not limited to taxes, fees, surcharges, from the acceptance or use of the prize are the sole responsibility of the winner. Any unclaimed prize will not be awarded.
DRAWING: One (1) Winner will be selected in a random drawing taking place on or about May 7, 2019 (the "Draw Date") at 5:00 p.m. PT from among all eligible entries received in accordance with these Official Rules. The random drawing will be conducted under the direct supervision of the Seahawks. Odds of winning depend on the total number of eligible entries received. Potential Winner will be notified by phone on or around May 8, 2019. Odds of winning are determined by the total number of eligible entries received.
PRIZE CLAIM: Noncompliance with these Official Rules by a potential Winner and/or his or her guest will result in disqualification and an alternate winner will be selected. Any prize notification returned as undeliverable will result in disqualification and an alternate winner will be selected. Claimed prizes will be awarded. Winner and guest must complete, execute and return an affidavit confirming the winner's identification and eligibility including a Liability and Publicity Release. Guest must complete and execute a release form prior to participation. If such documents are not executed at the time of Sweepstakes, or if any winner is found to be ineligible or not in compliance with these official rules, disqualification may result.
TAXATION. Winner is solely responsible for any and all federal, state, and local income taxes associated with his or her Prize. Sponsors are not responsible for and will not pay or in any way compensate Winner for taxes associated with winning a Prize in this Sweepstakes. The Winner may be required to provide certain tax related documents to Sponsors before receiving a prize. If required by law, Sponsors will issue Form 1099-MISC to Winner reporting the taxable retail value of his or her Prize. The Winner should consult his or her tax advisor about the tax implications of winning a Prize.
GENERAL RULES: The Winner and his/her guest grant Sponsors and its franchisees, CenturyLink and the Seahawks, full permission and authority to use, re-use and license the use of their voice, name, photograph or likeness in any promotional activity related to their being a sweepstakes winner, except where prohibited by law, and further grants Sponsors the right to use contestant contact information for its own use to contact contestants about other Sponsors programs and that they are entitled to no further compensation from the Sponsors. Sponsors and its agency are not responsible or liable for lost, late, incomplete, misdirected, not received, stolen, mutilated or illegible entries or mail. By entering this drawing, Entrants accept and agree to be bound by these rules and the decisions of the judges, which are final, binding and conclusive on all matters relative to this Sweepstakes. Sponsors reserve the right to disqualify Entrants who fail to follow these Official Rules and regulations or who make any misrepresentations relative to the Sweepstakes, drawing and redemption of prizes. Winners may not substitute or transfer prizes. Sponsors reserve the right to substitute prize of equal or greater value should featured prizes become unavailable. Sponsors, their parents, subsidiaries, affiliates, franchisees and agents are not responsible for any negligence, claims, liability, injury or property loss or other damages, including death, of the Winner (and their guest) arising from, or in connection with the prizes awarded or participation in this Sweepstakes. Under no circumstances will Winner or guest be permitted to obtain awards for, and participant hereby waives all rights to claim punitive, incidental, consequential or any other damages, other than for actual out-of-pocket expenses; and that all causes of action arising out of or connected with this Sweepstakes, or any prizes awarded, shall be resolved individually, without resort to any form class action.
GOVERNING LAW. By entering the Sweepstakes, Entrants agree that all issues and questions concerning the construction, validity, interpretation and enforceability of these Official Rules, participant's rights and obligations, or the rights and obligations of the Sponsors in connection with the Sweepstakes, shall be governed by, and construed in accordance with, the laws of the state of Washington, without giving effect to any choice of law or conflict of law rules. By entering, Entrants consent to the jurisdiction and venue of the federal, state and local courts located in the state of Washington.
WINNERS LIST. All inquiries concerning the sweepstakes or the list of winners may be directed to:
ATTN: CenturyLink Lunch with the Rookies
Virginia Mason Athletic Center
12 Seahawks Way
Seattle, WA 98056
OFFICIAL RULES: For copy of Official Rules, send a self-addressed stamped envelope to:
ATTN: CenturyLink Lunch with the Rookies
Virginia Mason Athletic Center
12 Seahawks Way
Seattle, WA 98056
Limit one rules request per envelope. Requests received after the last day of Entry Period will not be honored.
In accordance with Federal law, contact CenturyLink Customer Service to add your contact information to the CenturyLink Do Not Mail and/or Do Not Call lists if you do not wish to receive any sweepstakes or contest information (process may take up to two weeks).