Tom Hove and his husband Doug both grew up in family-oriented homes and always knew they wanted to be parents. They looked at avenues like surrogacy and private adoption before deciding that the foster system was the best fit, and became licensed to be a foster home in 2017. They took their daughter Cami home from the hospital at just four days old.
"We got Cami in August, and we jokingly told the social worker during one of the visits, 'Parenting is so easy, we could totally do another one, no issue,'" Tom said. "Two weeks later, we get a call at nine o'clock at night. They're like, 'Hey, we've got this little baby that's needing to leave the NICU. You guys said you would take another one.'
"And so we're like, 'Sure, why not!'"
Just about twelve hours later, the Hoves suddenly had a second child to call their own — a son named Tevin.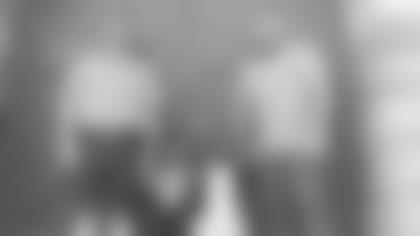 "He had a lot of medical issues, so it was a lot of sleepless nights. Thank God Cami was sleeping through the night and everything," Tom said. "I think we got him at six pounds, he was just this tiny little thing. And now we call him Moose because he's the size of a moose."
As natives of rural small towns — Doug is from Walla Walla, Wash., Tom from Great Falls, Montana — the Hoves have witnessed firsthand how acceptance of a family that looks like theirs is not the same everywhere.
"Being in a big city, we've been able to find acceptance here," Tom said. "But going back home, there have been times where it's difficult and the acceptance is not there. When we used to go visit my mom and my stepdad, it was two gay men with two little Black kids in a town of maybe a thousand people."
Race was brought to the forefront in America once again in the wake of George Floyd's murder at the hands of Minneapolis police in May of 2020. For Doug Hove, a nearly 20-year veteran of the Seattle Police Department — a group that dealt firsthand with protests that gripped the city, calling for justice for Floyd and an end to police brutality — it gave him an entirely new perspective on the realities of race in America, and being a father to two Black children.
"Prior to having this entire experience, you just prayed that it really wasn't out there," Doug said. "And for the first time in our lives, and especially for me, it's in your face. And in a way you almost have this embarrassment that you were oblivious to it."
"When the stuff happened last summer...we started to have conversations with our family on, 'What is white privilege?'" Tom said. "Just making them aware that it is important to us to have that conversation."
Doug says that the term itself is one that he wasn't comfortable with until he worked alongside a coworker who shared her own perspective on race and the roles it played in her personal life.
"It just was one of those things that I just didn't understand," Doug said. "It's something I didn't get until I talked to her under the circumstances that we were under, for it to just resonate with me."
It's those types of learning experiences that Tom and Doug lean on to make themselves better parents, and also help prepare their children for the world that lies ahead of them.
"It comes down to what values we want to pass on to our kids," Doug said. "So many times over the last year it's come down to — if you see evil and don't speak up, you're no better than those evils. If I'm silent, Tom's silent, what example are we giving our children? What really would be our legacy?"
Going into law enforcement nearly 20 years ago, Doug says he remembers having fears and preconceived notions that someone like him, and a family like his, would not be accepted. While it wouldn't be true to say he's never felt uncomfortable, Doug says that he's been pleasantly surprised by the outpouring of support and reassurance he's received while on the force.
"I couldn't have chosen a better agency, especially with the kids," Doug said. "Where else as a cop could a family like ours have 15 family photos right behind my desk, where every single soul, including janitorial staff, comes in and asks me, how's my family? 'How are you doing? What's your daughter's name? What's your son's name?' I've been shocked at the reception that we've received."
"For us, at the end of the day, it comes down to — we don't owe anybody anything, other than those two kids," Tom said. "We're going to do everything we can to best support them, to prepare the world for them, and to prepare them for the world."
After not being able to last year, the Hoves are looking forward to being able to see a Seahawks game in person at Lumen Field next season. Tom played a couple years of high school football himself before deciding the sport wasn't for him — but with his son Tevin beginning to take an interest, the football fan inside of him has started to awaken. "It's been good stuff," Tom said. "It's something that our friend group and Doug's family back in Walla Walla enjoys, so it's just good stuff for us all to be able to connect."
"I grew up in Washington and in Seattle as a professional, so there was no other team [than the Seahawks]," Doug said. "It's my hometown team."
"Except my family keeps sending Vikings stuff to the kids," Tom said. "I'm like, 'Ooh, no, no, no!'"
Editor's Note: Tom currently works for the Washington Department of Veteran Affairs and is the regional coordinator with Minority Veterans of America, one of 12 organizations making up the Seahawks Task Force 12, a partnership aimed at creating and providing life-changing support to our military community. You can learn more about Task Force 12 here.