You are here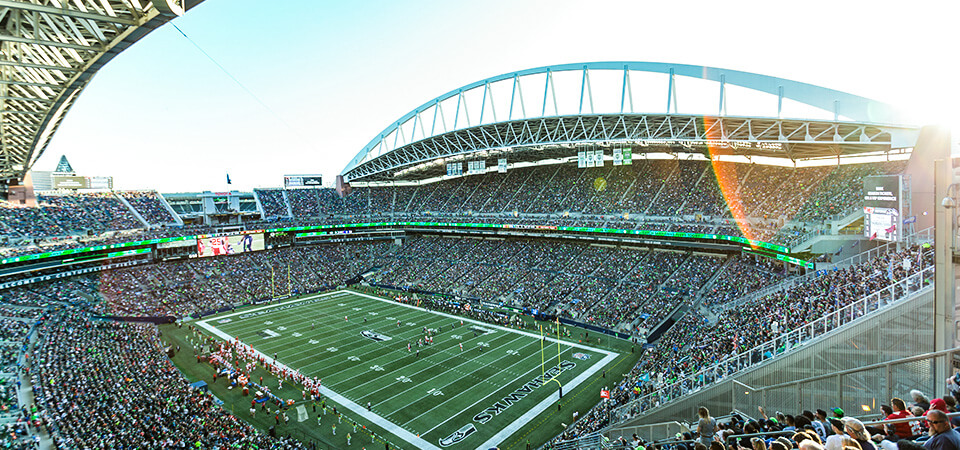 Win a VIP Prize Pack!
Thank you for your support of the Seahawks! We greatly appreciate your feedback throughout the year, as it helps us to better serve you.
To assist us in evaluating the effectiveness and relevance of some of our partnership activations, we're asking a select group of fans like you to take a few minutes to complete a short survey. We will ask a brief series of questions about your awareness of, participation in, and satisfaction with a handful of programs, events and campaigns we've created with some of our corporate partners.
How it works:
Enter survey by clicking here.
Upon full completion of the survey, you will be automatically entered to win one of three premium prizes!

(1) Autographed Russell Wilson Football
(1) Autographed Doug Baldwin Football
(10) $50 gift cards to the Seahawks Pro Shop
No purchase necessary. Parties may only enter once.
SEAHAWKS SPONSOR SURVEY SWEEPSTAKES
NO PURCHASE OR PAYMENT OF ANY KIND NECESSARY TO ENTER OR WIN. A PURCHASE WILL NOT INCREASE YOUR CHANCES OF WINNING. DO NOT ENTER IF YOU ARE NOT A LEGAL UNITED STATES RESIDENT AT TIME OF ENTRY. ADDITIONAL ELIGIBILITY REQUIREMENTS BELOW. VOID WHERE PROHIBITED BY LAW.
SWEEPSTAKES DESCRIPTION: 1. The Seahawks Sponsor Survey Sweepstakes ("the Sweepstakes") is sponsored by Football Northwest LLC d/b/a the Seattle Seahawks (the "Sponsor"). The Sweepstakes starts at 12:00:00 AM on September 18, 2017 and closes at 11:59:59 PM on January 6, 2018 (the "Sweepstakes Period"). All references in these rules are Pacific Time, which shall control for all purposes of this Sweepstakes.

ELIGIBILITY: The Sweepstakes is open to legal United States residents who are eighteen (18) years of age or older. Employees of the Sponsor, the National Football League and its member clubs (including the Seattle Seahawks), and their respective parent, subsidiary, and affiliated companies (collectively "Sweepstakes Parties") and the officers, directors and employees of each of these entities and their immediate family members (spouse, parent, child, sibling and their respective spouses, regardless of where they reside) and household members, whether or not related, of each of these people are not eligible to participate. Subject to all applicable federal, state and local laws and regulations. Participation constitutes entrant's full and unconditional agreement to these Official Rules and Sponsor's decisions, which are final and binding on all matters related to the Sweepstakes.

HOW TO ENTER: Upon full completion of the issued survey, party will be automatically entered to win. No purchase necessary. Parties may only enter once.

PRIZE DRAWS: The potential winners will be selected in a random drawing taking place on or about September 23, 2017 ("Survey 1") and January 6, 2018 ("Survey 2") (the "Draw Dates") from among all eligible entries received in accordance with these Official Rules. Odds of winning depend on the total number of eligible Entries. No responsibility is assumed by the Sponsor for any inability of a potential Entrant to successfully enter the Sweepstakes for any reason.

PRIZES: Survey 1 prizes are as follows: Two (2) Grand Prize Winners will win two (2) tickets to the December 31, 2017 Seahawks vs. Rams game valued at $200 OR two (2) sideline passes to the December 31, 2017 Seahawks vs. Cardinals game valued at $550, based on Sponsor's discretion. One (1) 2nd Prize Winner will win an autographed Doug Baldwin football valued at $219. Ten (10) 3rd Prize Winners will win a $50 gift card to the Seahawks Pro Shop.

Survey 2 prizes are as follows: One (1) Grand Prize Winner will win an autographed Russell Wilson football valued at $499. One (1) 2nd Prize Winner will win an autographed Doug Baldwin football valued at $219. Ten (10) 3rd Prize Winners will win a $50 gift card to the Seahawks Pro Shop.

WINNER NOTIFICATION / VERIFICATION: Potential winners will be notified by email or phone within one (1) business day of the Draw Date. If a potential winner cannot or does not respond within one (1) business day from the first notification attempt, then such person may be disqualified. If the prize notification or Prize is returned as non-deliverable the Prize winner will be disqualified. If any potential winner is found to be ineligible, not in compliance with these Official Rules or is unable or unwilling to accept the Prize awarded to him/her in full for any reason, then he/she will be disqualified and an alternate potential winner entrant will be randomly selected from the eligible entries. Claimed prize will be awarded. All applicable taxes, including, but not limited to, federal and state income tax, are the sole responsibility of winner.

CONDITIONS OF PARTICIPATION: CONDITIONS OF PARTICIPATION: Participants agree (a) to abide by these Official Rules and the decisions of Sponsor which are final and binding, (b) that the Sweepstakes Parties will have no liability whatsoever for, are released and shall be held harmless by participants against any liability for any injuries, losses or damages of any kind to persons, including death, or property resulting in whole or in part, directly or indirectly, from acceptance, possession, misuse or use of any prize or participation in this Sweepstakes or Sweepstakes-related activities, including any travel related thereto, and (c) except where legally prohibited, winners grant (and agree to confirm that grant in writing) permission to Sponsor, the Sweepstakes Parties and those acting under Sponsor's authority the right to the use of his/her name, photograph, likeness, voice, image and biographical information and statements for advertising, trade, publicity and promotional purposes without additional compensation, in all media now known or hereafter discovered, worldwide and on the Internet and World Wide Web, without notice, review or approval.

Verification of Potential Winner: POTENTIAL WINNER IS SUBJECT TO VERIFICATION BY SPONSOR, WHOSE DECISIONS ARE FINAL AND BINDING IN ALL MATTERS RELATED TO THE SWEEPSTAKES. AN ENTRANT IS NOT A WINNER OF ANY PRIZE UNLESS AND UNTIL ENTRANT'S ELIGIBILITY HAS BEEN VERIFIED AND ENTRANT HAS BEEN NOTIFIED THAT VERIFICATION IS COMPLETE.

GENERAL: The Sweepstakes Parties (herein referred to as "Released Parties") assume no responsibility for any damage to an entrant's or any other person's computer system or wireless phone which is occasioned by accessing any Website associated with this Sweepstakes or otherwise participating in the Sweepstakes or for any computer system, phone line, hardware, software or program malfunctions, or other errors, failures, delayed computer transmissions or network connections that are human or technical in nature. Without limiting the generality of the foregoing, the Sponsor is not responsible for incomplete, illegible, misdirected, misprinted, late, lost, damaged, stolen entries, email or mail or prize notifications; or for lost, interrupted, inaccessible or unavailable networks, servers, satellites, Internet service providers, websites, or other connections; or for miscommunications, failed, jumbled, scrambled, delayed, or misdirected computer, telephone or cable transmissions; or for any technical malfunctions, failures, difficulties or other errors of any kind or nature; or for the incorrect or inaccurate capture of information, or the failure to capture any information. The Sponsor reserves the right in its sole discretion to disqualify any individual who is found to be tampering with the entry process or the operation of the Sweepstakes or the Sweepstakes Website, to be acting in violation of these Official Rules, or to be acting in a disruptive manner, or with the intent to disrupt or undermine the legitimate operation of the Sweepstakes, or to annoy, abuse, threaten or harass any other person, and the Sponsor reserves the right to seek damages and other remedies from any such person to the fullest extent permitted by law. No mechanically reproduced, illegible, incomplete, forged, software-generated or other automated multiple entries will be accepted. The Sponsor reserves the right to modify, extend, suspend, or terminate the Sweepstakes if it determines, in its sole discretion, that the Sweepstakes is technically impaired or corrupted or that fraud or technical problems, failures or malfunctions or other causes have destroyed or severely undermined or to any degree impaired the integrity, administration, security, proper play and/or feasibility of the Sweepstakes. In the event that the Sponsor is prevented from awarding prizes or continuing with the Sweepstakes as contemplated herein by any event beyond its control, the Sponsor shall have the right to modify, suspend, or terminate the Sweepstakes. If the Sweepstakes is terminated or suspended before the end of the Sweepstakes Period, notice thereof will be posted on the Sweepstakes Website and the Sponsor will (if possible) select winners in a random drawing or drawings from all eligible, non-suspect entries as of the date of the event giving rise to the termination. Inclusion in such drawing shall be each entrant's sole and exclusive remedy under such circumstances. The invalidity or unenforceability of any provision of these Official Rules shall not affect the validity or enforceability of any other provision. In the event that any provision is determined to be invalid or otherwise unenforceable or illegal, these Official Rules shall otherwise remain in effect and shall be construed in accordance with their terms as if the invalid or illegal provision were not contained herein. The Sponsor reserves the right to correct clerical or typographical errors in promotional materials or these Official Rules. Winners may not substitute or transfer prize. Sponsor reserves the right to substitute prize of equal or greater value should featured prize become unavailable. Other restrictions may apply. All trademarks are the property of their respective owners. By entering this Sweepstakes, each entrant gives his/her express permission to be contacted by the Sponsor about other Sponsor programs.

Released Parties are not responsible for lost, incomplete, illegible, late, misdirected, stolen, inaccurate, or mutilated entries; or for errors or problems of any kind, whether typographical, printing, human or otherwise, relating to or in connection with this Sweepstakes, including without limitation, errors or problems which may occur in connection with the administration of this Sweepstakes, the processing of entries, the announcement of the prizes or in these Official Rules, in any drawing-related advertisements or other materials; or for inaccurate entry information, whether caused by equipment, programming used in this Sweepstakes, human processing error, or otherwise.  Sponsor reserves the right, in its sole discretion, to void any and all entries of an entrant (and disqualify him/her) who Sponsor believes has attempted to tamper with or impair the administration, security, or fairness of this Sweepstakes.

GOVERNING LAW: By entering, entrants agree that all issues and questions concerning the construction, validity, interpretation and enforceability of these Official Rules, participant's rights and obligations, or the rights and obligations of the Sponsor in connection with the Sweepstakes, shall be governed by, and construed in accordance with, the laws of the state of Washington, without giving effect to any choice of law or conflict of law rules. By entering, entrants consent to the jurisdiction and venue of the federal, state and local courts located in the state of Washington.

WINNERS LIST: For the names of the winners of the Prizes, send a self-addressed, first-class stamped envelope to: Seattle Seahawks, ATTN: Seahawks Sponsor Survey Sweepstakes, 12 Seahawks Way, Renton, WA 98056. Requests must be received by June 1, 2018.

SPONSOR: Football Northwest LLC d/b/a Seattle Seahawks, 12 Seahawks Way, Renton, WA 98056