You are here
American Express Hawks Island
---
Get ready, 12s. On October 1, Hawks Island returns. American Express is bringing back the ultimate pregame experience when the Seahawks take on Indianapolis in a prime-time matchup.
HAWKS ISLAND IS NOW SOLD OUT.
American Express
Section 12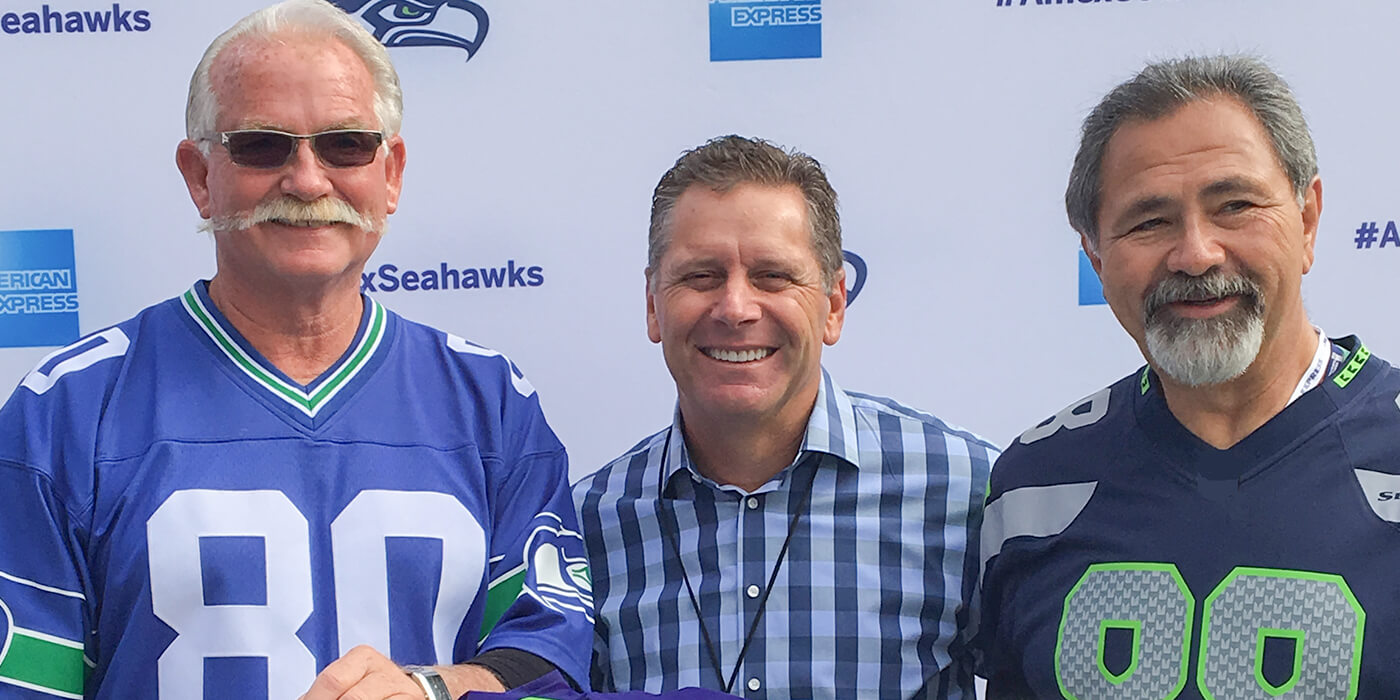 ---
Located by the Northwest Gate at CenturyLink Field, Section 12 is bringing Card Members an incredible experience before each home game.
Enjoy meet and greets with some of your favorite Seahawks legends, grab some free gear and charge your phone so you can share pics and check your fantasy team.**
American Express Dinner on the 50
---
Before the new season kicked off, American Express invited Card Members onto the 50-yard line at CenturyLink Field for a memorable meal. Bursting out of the players' tunnel, Card Members found themselves face-to-face with classic moments in Seahawks history.
As a surprise for attendees, Seahawks greats Cliff Avril and Bobby Wagner hosted a special Q&A for fans.
American Express is All For The 12s, all season long. Stay tuned for more Card Member-exclusive experiences.
#AmexSeahawks
Be sure to follow #AmexSeahawks to stay up to date on exclusive Card Member experiences all season long.
*Availability is limited. Please be aware that American Express "Hawks Island" will be filmed and/or photographed, that such recordings may be used by Amex or its designees and partners in broadcast television or online media channels. This limited supply offer is available to all American Express® Card Members. Limit four (4) tickets per Card Member. Each ticket includes access to the event and two (2) complimentary drinks; additional drinks can be purchased using an American Express Card or cash. Tickets may not be re‐sold and are non-transferable. Card Members and guests must comply with all venue rules and regulations, and these terms; failure to do so may result in forfeiture or cancellation of your tickets. Must be 21 years of age or older to attend this event and to consume alcohol. Please drink responsibly. Tickets are from limited inventory and subject to availability. Offer may be revoked at any time at sole discretion of American Express. Tickets are available on a first‐come, first‐served basis.
**Section 12 is complimentary to American Express® Card Members. Admission is first-come, first-served. Capacity is limited. Guests must show a valid American Express® Card to gain entry to the event. Talent is subject to change.